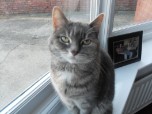 Initial Meeting
This is free of charge. This gives us the opportunity to meet and for me to meet your pet. I will collect info about your pet such as what they eat, favourite toys, regular behaviour and medical history. I will note alarm codes, emergency contacts &,vets details. I will provide any relevant documents for completion. I will make available to you my insurance and CRB documents, for your peace of mind.
Transport Costs
Unlike many pet sitters who charge on average, 25p per mile, there are no transport costs to you.
Food
Most pet owners prefer to leave and provide pet food. Should you prefer food can be supplied at a cost of £2.50 per day.
Cat Litter
Must be provided by owner.
Pet Illness
In the event of your pet becoming ill whilst in my care, I will inform you immediately and take them to your registered vets or if this is not available, to the nearest local vets. This will be payable by yourself.
Delayed return from holiday
If you are delayed, your pets well-being will still be maintained. You just need to contact me as soon as possible. Normal daily rates will be payable on return of your keys.
Cancellation Policy
I would respectfully ask that holiday cancellations are notified to me as soon as possible. Deposits can only be returned if I am given at least 14 days notice. If less than 5 days notice is given then the full fee will be payable.
Anything else?
Should you have any questions about my services or anything else on my web site, please just get in touch.
Please note I do not board animals.
Two sets of house keys will be required or a set for the front and back door. This is a precautionary measure in case of accidental key damage.
Photos on my website
Just to let you know that the pet photos on my website are all real pets I know well/have looked after and are not downloaded pictures. I am sure you will agree that they are all gorgeous!